PRODUCT INFORMATION
Shipping Policy
Return Policy
Refund Policy
PRODUCT INFORMATION
It's only natural to let your pets love the outdoors. But what about those pets who tend to stray too far from home?
A traditional fence is costly and may not be the look you want for your property. This Electric Wireless Dog Fence with Collar is the invisible solution you can count on to keep your pets safe and within your yard's boundaries. The system works by delivering mild static correction through two contact points that touch your pet's neck.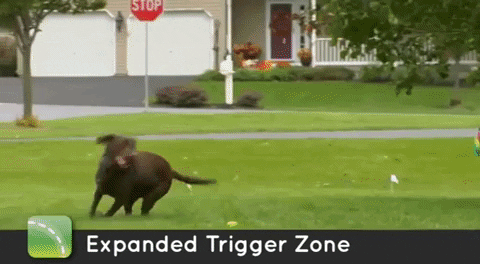 With a 1650 foot range, your dog can feel free to roam anywhere, such as the park, backyard, or woods.
Dog shock collar long battery life ensures you and your dog can play together without the battery dying. Allow your dog the freedom to play inside or out while providing constructive behavior training 24/7. You won't need to stop the training process due to a dead battery or out of zone reach.
Works on any dog regardless of size. Big or small, long-haired, or short. 
Please Don't Wait Until It's Too Late!
Over 1.2 Million dogs are injured on the roads each year! Prevent Your Dog from being a statistic and help them stay where they're supposed to. A containment fence teaches your dog boundaries and is a much better alternative than conventional fencing. 
HOW IT WORKS:
The receiver has a control range of 500 meters (1650 feet) in radius. With the Plus(+) and Minus(-) button on the receiver, you can adjust the transmitters signal level from 1 - 100. This allows you to increase freely or decrease the control range/radius of the wireless dog fence. The level you set will be displayed on the screen of the transmitter.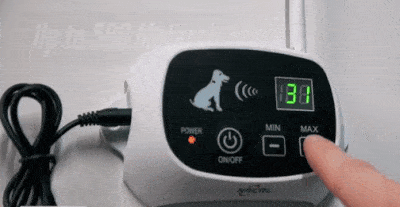 Attach the receiver to your dog to receive a constant wireless radio signal from the wireless dog fence transmitter set up in your house. If your pet goes beyond the adjustable range, the collar will automatically begin its training function. The collar will begin to beep every two seconds, three times, reminding your pet to return to their area.
Suppose they do not return to their area after the third warning beep. In that case, collar will give your pet a safe wireless fence correction static shock that gradually increases in intensity from levels 1-4 (auto shuts off after 3 cycles) until your pet returns home.
What's Included:
Training Collar/s

Wireless Receiver x1/x2/x3
USB Charging Cable x1
Power Adapter x1
Metal Contact Probes x4/x8/x12
LED Test Light x1/x2/x3
Screws x4
Plastic Anchors x2
User Manual x1
Shipping Policy
How Long Shipping Takes? Processing time is 1-3 days. After processing shipping takes between 1-3 Days. Due to high demand of some of our most popular products, please allow 5-7 Days for delivery. If your order hasn't arrived in the estimated delivery times, please contact our support team at joygadgetshelp@gmail.com (This policy excludes errors made by customers when providing shipping details on their order(s) or missed parcel deliveries). Do you deliver products internationally? We don't ship internationally at the moment.
Return Policy
If you would like to return any item(s), for either a refund or exchange, you'll need to contact us via email. It is important that all conditions are met: If your package did not arrive on time, please write to us. We'll help you! Any returns must be in resalable condition and in its original packaging. When we've received the return it can take up to 5 working days to process your request and issue a refund or exchange. We may contact you to discuss options, and if you've requested an exchange to confirm the product you'd like. Items must be returned within 14 days of the order date. We may ask you to provide photos if an item is damaged, faulty or the wrong size. We also need a tracking number for returns. When you ship to return, please send us the tracking number of the parcel. For refunds visit our Refund Policy
Refund Policy
At Joy Gadgets we want to make sure you have the best experience and we guarantee total customer satisfaction with the items you purchase. Below find our policy on returns. If you have received your item(s) defective or incorrect: Take a picture of the defective/incorrect item(s) showing the issue. Email us at joygadgetshelp@gmail.com *Further instructions will be given through email. If you ordered the wrong item and would like a refund or exchange: Simply return the item which must be unopened in it's original packaging within 14 days of delivery for a full refund. Be sure to include your packing slip and/or order information in the box. You'll be responsible for return-shipping costs. We do not cover shipping cost for return. Our policy lasts 14 days starting from the day item(s) were delivered. If 14 days have gone by since you received your purchase, unfortunately we can't offer you a refund or exchange.
CANCELLATION: Orders can only be cancelled within 24 hours from the time of purchase. If it's more than 24 hours, we can no longer cancel the order as it has already been fulfilled by that time.