PRODUCT INFORMATION
Shipping Policy
Return Policy
Refund Policy
PRODUCT INFORMATION
You, like most of us, work from a computer? Do you use your laptop while you're lying in bed or relaxing on the couch? Then you know that your laptop emits uncomfortable heat on your lap and doesn't properly vent because there's nowhere for the airflow to go.
Luckily for you, we have the solution:
Introducing the Adjustable Standing Desk! It's the all-in-one solution for computing while sitting on the couch or lying in bed. Engineered with venting holes in the surface, the Adjustable Laptop Desk with Mouse Pad is fully adjustable to meet your desired height. This is the future of home desks!
This desk is perfect for chillin, but if you're willing to put in the work, it can also improve your posture.
Use it as a standing desk at home or in the office. Just place it on your desk, raise it to a comfortable standing height. 
Laptop Riser:
Put your laptop on the Lap Desk to raise your screen to eye-level height, so you can stop looking down while working, which means reduced neck pain and healthier work ergonomics for your home office.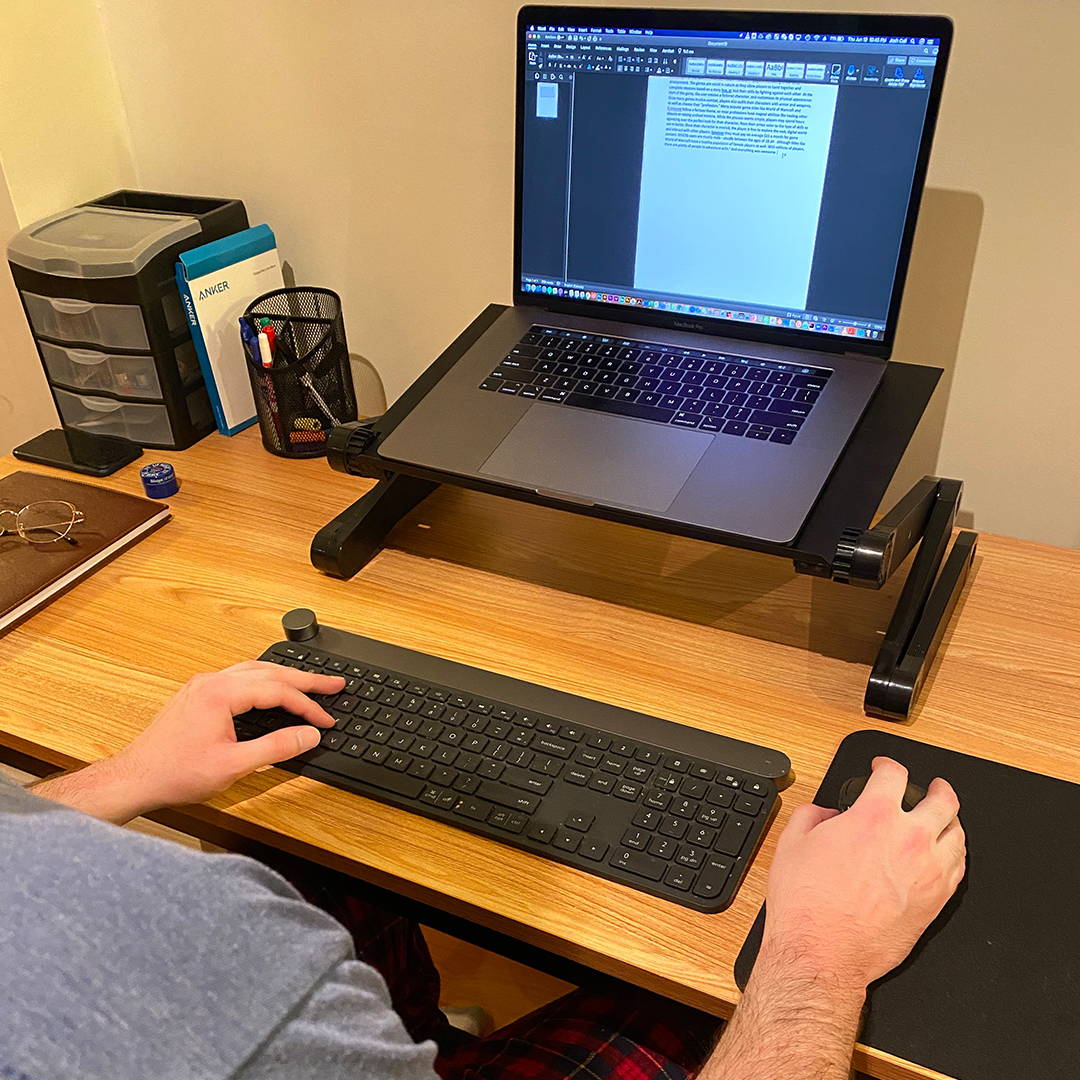 Standing Desk:
Place your laptop directly on the portable desk to create another version of the stand-up desk. This is a great way to turn your regular wood dining tabletop or birch veneer desk into a standing desk.
Benefits:
Work Anywhere

 

- Use a standing desk, full-size sitting desk, on the couch, in bed, or wherever you want to use your laptop comfortably.
Strong Build

 

- Made from Aluminum-Magnesium-Alloy, this desk was built to last.
Included Mouse Panel

 

- Included side mouse panel attachment can also double as a drink holder.
Light Weight & Portable

 

- Only 1.3 kg (3 lb), take this desk with you wherever you go.
Adjustable Legs

 

- The desk legs can be adjusted into many different configurations and whatever height you desire.
Multi-Purpose

 

- Desk can be used as a Breakfast Tray, Standing Desk, Book Tray, Writing Desk, Tablet Holder, Stand-Up Desk, Gaming Table, Notebook Stand, Keyboard Lift, Laptop Tray, Keyboard Riser, Foldable Laptop Desk, Cooling Pad, Computer Stand for Laptop, Folding Tray Table, Standing Desk Converter, Laptop Base, Ergonomic Laptop Riser, Desk Raiser, Laptop Holder or however you wish to use it!
Specifications:
Color: Black
Weight: Approx 3 lbs (1.35kg)
Weight Capacity: 33 lbs (15kg)
Material: Aluminum Alloy, High Quality Plastic Flex Joints
Folded Dimension: 20.6" x 10.4" x 2"
Folding angle range: 0 ~ 360°
Shipping Policy
How Long Shipping Takes? Processing time is 1-3 days. After processing shipping takes between 1-3 Days. Due to high demand of some of our most popular products, please allow 5-7 Days for delivery. If your order hasn't arrived in the estimated delivery times, please contact our support team at joygadgetshelp@gmail.com (This policy excludes errors made by customers when providing shipping details on their order(s) or missed parcel deliveries). Do you deliver products internationally? We don't ship internationally at the moment.
Return Policy
If you would like to return any item(s), for either a refund or exchange, you'll need to contact us via email. It is important that all conditions are met: If your package did not arrive on time, please write to us. We'll help you! Any returns must be in resalable condition and in its original packaging. When we've received the return it can take up to 5 working days to process your request and issue a refund or exchange. We may contact you to discuss options, and if you've requested an exchange to confirm the product you'd like. Items must be returned within 14 days of the order date. We may ask you to provide photos if an item is damaged, faulty or the wrong size. We also need a tracking number for returns. When you ship to return, please send us the tracking number of the parcel. For refunds visit our Refund Policy
Refund Policy
At Joy Gadgets we want to make sure you have the best experience and we guarantee total customer satisfaction with the items you purchase. Below find our policy on returns. If you have received your item(s) defective or incorrect: Take a picture of the defective/incorrect item(s) showing the issue. Email us at joygadgetshelp@gmail.com *Further instructions will be given through email. If you ordered the wrong item and would like a refund or exchange: Simply return the item which must be unopened in it's original packaging within 14 days of delivery for a full refund. Be sure to include your packing slip and/or order information in the box. You'll be responsible for return-shipping costs. We do not cover shipping cost for return. Our policy lasts 14 days starting from the day item(s) were delivered. If 14 days have gone by since you received your purchase, unfortunately we can't offer you a refund or exchange.
CANCELLATION: Orders can only be cancelled within 24 hours from the time of purchase. If it's more than 24 hours, we can no longer cancel the order as it has already been fulfilled by that time.